Why Direct Mail Marketing?
Turn your promotions into profits.
Choose a Direct Mail Package
All prices include a one-time mailing service and postage.
Custom
Call  (Option 3) to create a package that's unique to you.
Full-Color Postcards or Brochures
Targeted Mailing List
---
Custom Design (or provide your own artwork)
Presorted First-Class or Standard Mailing
What do Direct Marketing Services Include?
The services found in each package provide you with a clear return on investment.
Marketing Consultation

We help you with a start-up plan on how to promote your business with direct marketing!

Marketing Packages

Choose one of our marketing packages and start profiting!

Design Services

Our custom designs include layout and typeset. We can choose images from our archive, or you may send us your own high-quality images. We take pride in our design work and ensure our customers' satisfaction with the entire experience as well as the final product.

Mailing List

Don't have a list? No problem! We can provide you with a list of targeted markets based on chosen demographics i.e. age, gender, income, zip codes, etc.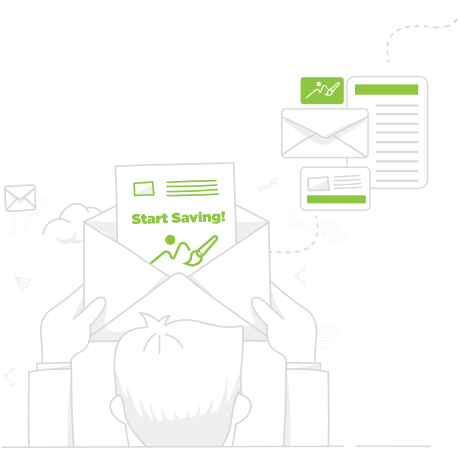 Printing

We will print your postcards on our high-quality stocks, printed with color on both sides. Postcards are printed on 14 pt. Gloss Cover.

Mailing Options

Presorted First-Class delivery for standard postcards. (3 – 5 business days delivery)
Presorted Standard delivery for jumbo postcards. (10 – 15 business days delivery)

Mailing Services

Mailing Services include:

Importing the list from disc or e-mail/CASS certification/Presort/InkJet Format.
Printing the names and addresses onto the postcards or brochures.
Delivery to the Post Office.
All with our bulk rate mailing price.
(Postage is estimated between $0.26 to $0.49 with our bulk mail postage rates. You'll save with our service, as the post office charges $0.55 per postage!)
Budget-Friendly Direct Marketing Packages
Let GotPrint handle all your direct mail marketing needs! Our in-house team of professional designers and marketing experts can help you reach your promotional goals by designing a direct mail package tailored to your brand and target customers. We have a successful track record of fulfilling direct marketing campaigns through creative, unique designs and affordable mailing services.
Our experienced professionals have dedicated themselves to helping small and large businesses create promotions and turn them into profits. Whether you wish to send high-quality postcards, we can help you get it done from start to finish. If you need a custom campaign, like booklets, catalogs, or letters, we can help with that too. Once your custom marketing materials have been designed and printed, we'll distribute them to a targeted list of qualified customers on your behalf.